Pages in StudioWorks+ can be edited in single-page format or spreads
After logging into StudioWorks+, click the Pages icon at the top of your screen to access and edit your yearbook.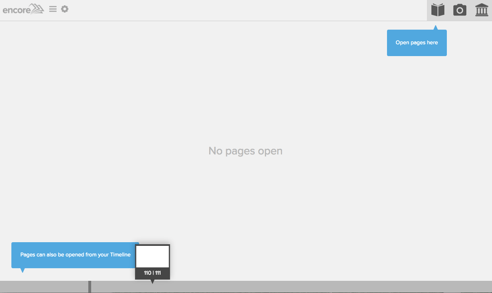 StudioWorks+ allows easy page editing by simply double-clicking on the page icon you wish to work on from the left-side thumbnails to open it inside the editor. Clicking one time on a page allows you to edit that pages' properties including the page name, assigned users, deadline and more. If you wish to view your pages in spread or list view, choose the preferred option by clicking its name on the page view tabs directly under the Pages Icon.
StudioWorks+ allows you to open and edit pages in both single-page format and spread format. StudioWorks+ was designed to lock pages once they are in edit mode to prevent multiple users to access the same pages at the same time. Once you have finished editing a page, close it by clicking the X icon on the left side of the toolbar. This will release the lock to allow for other users to edit.