Learn the basics of StudioWorks+
Welcome to StudioWorks+, the online publishing solution from Balfour. This user guide provides the instructions and information you need to create a project using StudioWorks+. The guide is designed for beginning users of StudioWorks+ who have a basic understanding of the Windows or Macintosh operating systems and platforms. Additionally, it assumes an understanding of basic yearbook terms and practices.
If you need more information about StudioWorks+ or yearbook production, please contact your Balfour sales representative or Balfour's software support team.
Technical Support: (800) 947-0510
StudioWorks+ System Requirements:
1GB available RAM
Broadband Internet Connection
Web browser (Microsoft Internet Explorer 6+, Mozilla Firefox 2+, Apple Safari 3+)
Adobe Flash Player 8 or higher
Java Runtime Environment (JRE) 1.6 or higher
CPU with a processor of 1 GHz or higher
StudioWorks+ System Recommendations:
2GB available RAM
200MB available hard disc space
Microsoft Windows 7 or later; Macintosh OS 10.5
or later. Contact your Sales Representative for Chromebook options.
Monitor with 1024 x 768 screen resolution
or greater
Adobe Acrobat 7 or higher, or Adobe Reader
CPU with Dual-Core processor
Learning About StudioWorks+
StudioWorks+ gives you everything you need to plan and produce your yearbook online. You can easily manage your project, your staff and your content as well as create imaginative yearbook spreads.
A basic workflow in StudioWorks+ includes:
Select your fonts – 50 fonts maximum
Setup a book – define sections and section styles
Manage a staff – view users and assign pages
Plan the year – create a semester or year calendar
Add content – upload digital images, stories, and other content
Create pages – design layouts and spreads
Create portrait pages – upload and flow portraits from a PSPI disc to the Portrait Data
Create index – flow Portrait Data entries
to index pages
Publish pages – send completed spreads
StudioWorks+ includes two major components:
Use the Manager to manage the project and staff:
view pages, events, staff history and other information.
Use the Editor to create imaginative designs and effects quickly and easily.
Dashboard Window
The Dashboard Window provides a snapshot of the project. The three sections give a real-time view of page status, scheduled tasks and deadlines, and other information.

Pages Window
The Pages Window provides a place to manage sections and spreads. The Page Thumbnails provides a digital overview of the entire book. The Page Details area includes ladder information – deadline, color, assignments and more – that can be exported and printed as a PDF.

Editor
The Editor, which opens when you select a page or spread to edit, is where you can create, design and edit an imaginative and inspiring yearbook. In the Editor, uploaded images and stories can be dragged and dropped onto pages and edits are visible onscreen as they are made.
Content Window
The Content Window contains Galleries of uploaded content including: custom content, Balfour and custom modules, Balfour and custom page templates, Balfour Clip Art, Balfour Pop Prints and Backgrounds.

Portrait Data Window
The Portrait Data Window includes portrait and name information that will be used to flow portraits and the index from an uploaded Professional Sports & School Photographers Association (PSPI) CD. StudioWorks+ enables editing and management of those entries.

Planner Window
The Planner Window provides a tool to keep the project and the staff organized. In calendar and list form, the Planner provides a monthly overview of assignments, deadlines and events.

Recent Activity Window
The Recent Activity Window shows a log of all the project activity and can be filtered by user or by page.

Setup Window
The Setup Window contains project and staff information. The Book/Font/Public upload tabs allow you to view your book specifications, define a font set for your yearbook and view the public upload feature for your project. You can set up additional users and set permissions in the Users Area.

Logout
Logs a user out of StudioWorks+ for a secure exit.

Refresh
Refreshes the StudioWorks+ Manager screen.

Connecting to StudioWorks+
In your browser, go to studio.balfour.com and click Launch StudioWorks+ on the Home Page.
You may be directed the StudioWorks+ System Check page. This will ensure that your system has the necessary requirements to run the program. If you do not have the current version of an item, a red 'X' will appear next to that item. You can update the item by clicking the link if you have security privileges to do so. After upgrading, or if your computer is ready to go, click the Proceed to StudioWorks+ button.
At the login screen, enter your username and password that were provided when your StudioBalfour account was created. If you do not have them, contact your Balfour representative or Account Executive.
My Email is ______________________________
My Password is ___________________________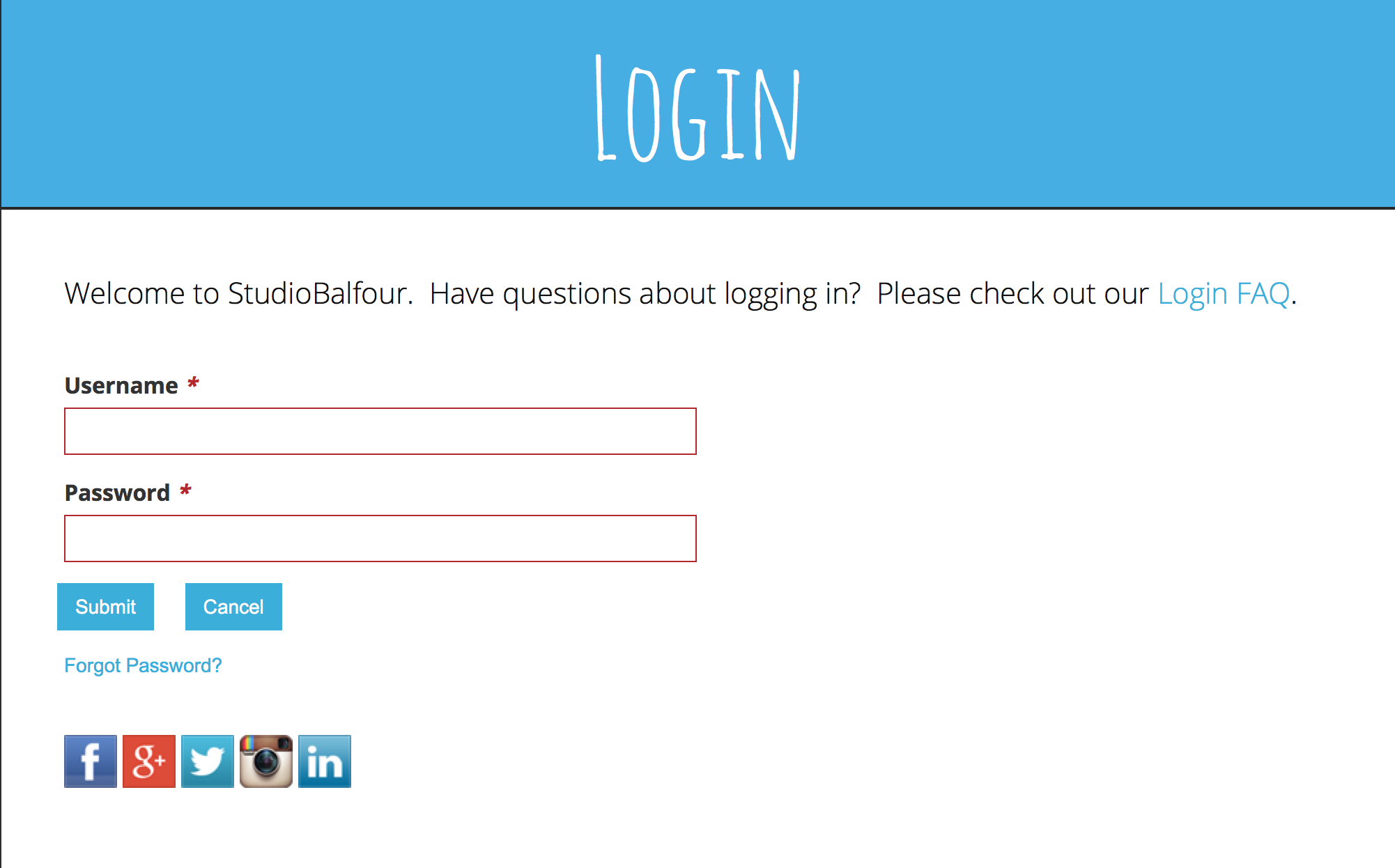 The StudioWorks+ Window
Most StudioWorks+ windows share common elements. Most information appears in Panes, and the panes can be arranged or sized to suit your needs.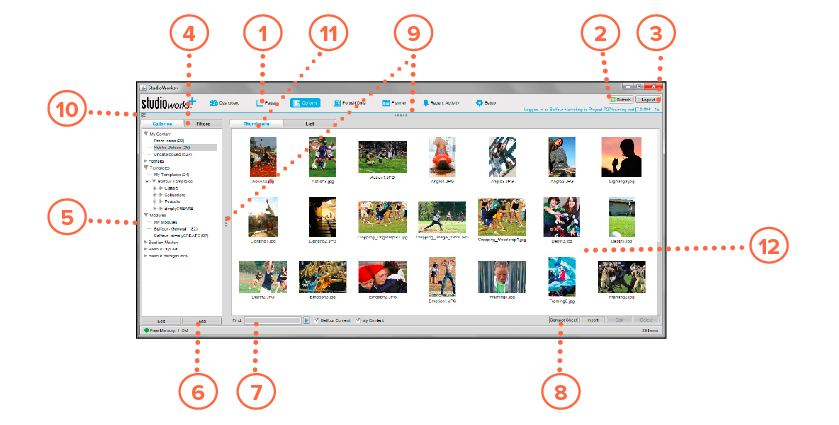 Navigation buttons – Appear at the top of
each window.
Refresh – Refreshes browser window and
page thumbnails.
Log out
Content, Filter Panes – Displays galleries (folders) or filters related to content at right.
Galleries – Images, templates, modules and clipart are organized by subject/type. Click a category (triangle) to expand, single-click a gallery to display its contents.
Add, Remove Gallery – Adds or removes a user gallery (Balfour content cannot be removed).
Find – Searches the names and descriptions
of items in the active gallery.
Action Buttons – Buttons for editing and adding content or creating proofs and
reports are located in the lower-right
corner of each screen.
Sliders – Press and hold on sliders to resize
the adjacent panes.
Maximize/minimize – Click once to maximize main pane (thumbnails in this example).
Content tabs – Selects the view for the
window's content.
Content – Double-click an item to view/edit
its details.