How do I import portraits into Encore?
Portraits from your school photographer's PSPI disc can be uploaded at studio.balfour.com in the Build a Book > Upload Files to Balfour. Then click the 'Upload Portrait Disk' button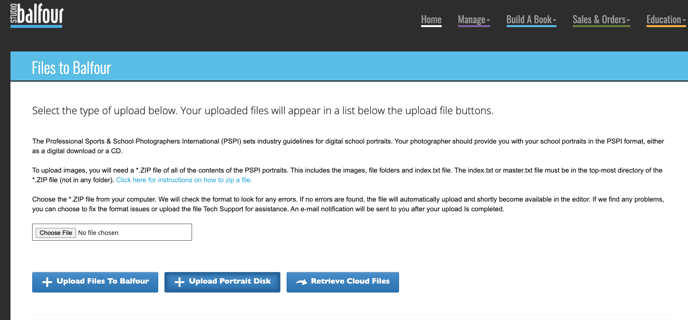 To upload the PSPI disc from your photographer, you will need to compress the contents of the CD to a *.ZIP file. The uploader will error check the formatting of your PSPI file. After upload, the student images are visible as Student Records in studio.balfour.com > Manage > Student Manager. You can edit student records in the Student Manager to alter names, grades, merge duplicates, etc. All edits made in Studio Balfour update Encore, and vice versa.
Uploaded portraits display on the Photos screen under the Portraits tab. Use the column on the left to filter portraits by grade, teacher, homeroom, or any other category included on the PSPI disc. Titles of the collections in the portraits sections are based on your PSPI disc.