Submit finished pages in Encore with these steps.
Congratulations on getting your pages to the finish line! You will need to preview and proof your spreads before you can complete and publish.
Proof your spread:
Open your spread in Encore.
Check the spread for errors and warnings. Correct errors as needed.
From the file menu, select Preview and Print.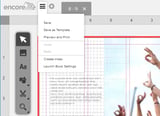 4. Download the PDF and proof.
Complete your spread:
Students can complete the spread locking it from additional edits. The adviser is the one that can edit the spread ().
When the adviser completes the spread, it is ready to publish.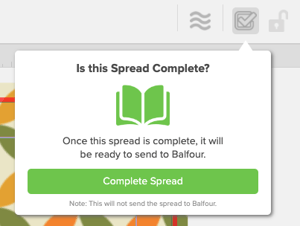 Publish your spread:
When pages are complete and ready for final submission, follow these steps:
Open your spread in Encore.
Click on the Submit icon () to send pages to Balfour.
Once the spread is submitted to Balfour, the
Published
icon (

) will display on the spread, visually showing that it has been submitted. The spread is then locked from editing, although it can still be viewed and proofs can still be generated.
What if I need to unpublish a spread?
Advisers have the ability to unpublish a spread if the signature where the spread resides is not complete. To unpublish, follow these steps:
Click on the Published icon ().
Follow the prompt to unpublish or cancel the request.
If the signature is complete and additional edits are required, contact your Account Executive to determine if the signature can still be revised