Learn about how to import and manage your student list for better marketing and management.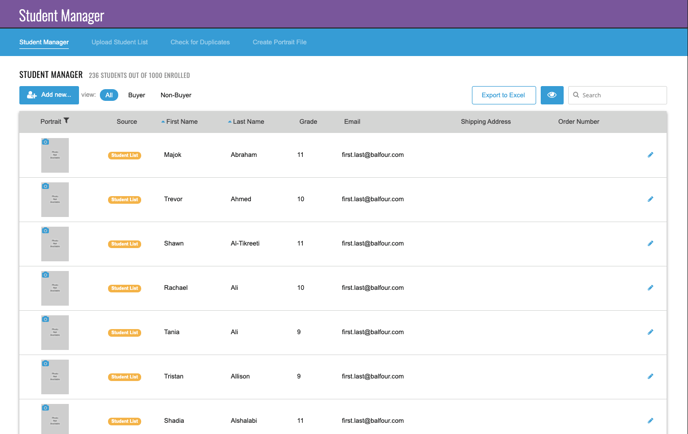 A Student List is a roster of your entire student body that can be imported into StudioBalfour to help your staff manage student records for the yearbook, to create targeted eMarketing campaigns or for use with EZPix Portraits and EZPix Events. Importing your list is simple. Follow these steps:
Request a complete list of all students in your school from your registrar or front office. The minimum required for each list is First Name, Last Name and Grade. If you are planning to use your list for eMarketing, be sure to include an email address.
Log into StudioBalfour and choose Manage > Student Management > Upload Student List
Click Import and select your file from a location on your computer. Acceptable file formats can include: .xls, .xlsx, .csv and .txt. If you are using a .txt file, please separate columns by tabs.
Map each column to the correct column heading. If more columns exist that are not needed, leave the column heading blank and those columns will be ignored on upload. Once you have reviewed your data for accuracy, click Approve to complete the upload process.
Note: Your list will go through a review process to ensure accuracy. Please allow up to 24 hours for your list to be approved. For quicker approvals, contact your Balfour Account Executive.
Using EZPix Portraits? If you plan to flow your portraits by teacher, be sure to include a column for teacher name in your student list upload.
Once approved, your student list data can now be viewed by going to Manage > Student Management > Student List.
For a step-by-step tutorial on uploading a Student List, click here.