Upload and organize content in StudioWorks+.
Content makes up the heart of a project. In StudioWorks+, content is uploaded then placed
in layouts using the Editor. Project content is uploaded into two sections:
Content Window – contains all the non-portrait
images and content.
Portrait Data – contains portraits and related student information. (See page 37, Working with Portraits.)
Content can be dragged from an Internet-connected local computer drive and dropped into layouts. The image/story will appear in the Uncatalogued gallery.
A green arrow on an image indicates it has been used in the project. Double-click the image to view the Usage Tab, which reveals the page numbers on which the image appears.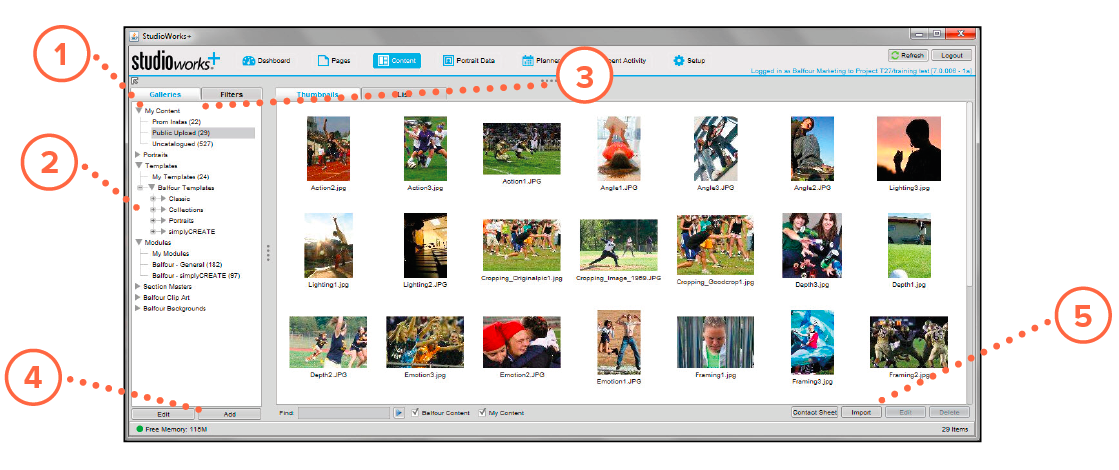 My Content Galleries – Organize how you work.
Other Galleries – Balfour and custom templates, modules, section masters and backgrounds.
Filters – Filter content by person who uploaded or date uploaded.
Add and remove galleries.
Add images or stories.
Uploading Content
The Content Window contains uploaded project content plus Balfour design elements that make your job easier. Project content is organized into Galleries and sub galleries. In Galleries, you can:
Upload images and content
Browse custom and Balfour templates
Browse custom and Balfour modules
Browse custom and Balfour section masters
Browse Balfour backgrounds
Browse Balfour clipart
To Add Content to a Gallery
Click on Import .
Click the Add Files button.
Select the file(s) to import from your desktop, CD or flash drive. You can also drag files from your desktop into a gallery.
Choose the Gallery for each photo.

Click

Upload File(s)

to begin the upload process.

Click Close

when upload is complete.
Image files can be JPEG, TIF, or PNG format. Balfour recommends doing preliminary image editing and sizing before uploading for better performance.
Story files must be in a Plain Text format.
Organizing Content
Move content to another gallery by dragging the thumbnail preview onto another gallery icon
in My Content.
Create or edit a galleries by clicking the Add Gallery or Edit Gallery buttons

.
Create additional galleries by clicking

Name the gallery and select the Parent Gallery (folder to attach the new gallery).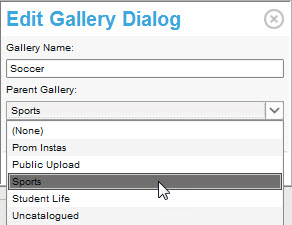 When you save a layout as a template, a module or a section master, StudioWorks+ automatically adds the layout to the Galleries in My Templates, My Modules, My Section Masters, etc.
Double-clicking a file will display more information about that file. When you click on the file, you may edit the name of the image in the Label field and view detailed information about file.
Click the gray triangles on the sides of the preview window to view the previous or next image.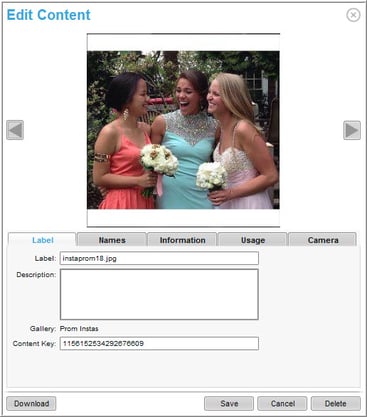 Label – Update content label and description.
Names – Tag photos by identifying students from their portrait once the PSPI CD is imported.
Info – View detailed information about the content: file name, who uploaded, upload date, dimensions, and file size.
Usage – View pages on which the image has been used.
Camera – Identifies information about a photo from the original source.
Download – Download any picture that is part of My Content.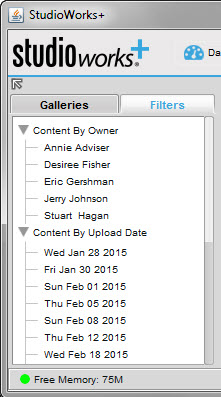 Next to the Galleries tab, the Filters tab enables content filtering by Owner or Upload Date.
The List View provides the same features and functionality in a different view format.
Public Uploads (ImageShare)
Using ImageShare, Balfour's app, your students and parents can upload images for your yearbook right from their mobile devices. Uploaded images will appear in the Public Uploads gallery in your project's Content Window.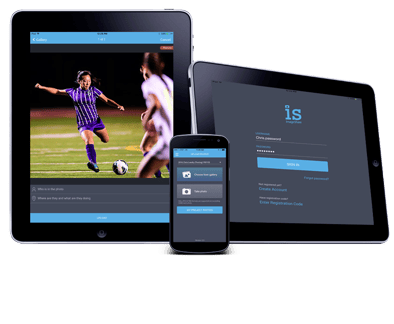 Tell students and parents to search for 'Balfour Image Share' in the iOS or Google Play app store.
You can enable or disable public uploads at studio.balfour.com > summary > project. Click edit in the Project column and click Enabled next to ImageShare Uploads to turn on the service for your school. Users will need your school's project number (the same one you use to login to StudioWorks+) plus an optional password (if you wish to have your school use one) to create an account.